With the start of a New Year, a lot of people are looking for change. Most people want to improve themselves and be a better person. Starting on 1/1/19, 365DOLF will be unlike any other game plan for that self-improvement. Each day you will use 6 famous birthdays to help guide you for improvement with your MIND, BODY, SOUL, MONEY, ENTERTAINMENT, and FOOD.
I have provided an example of each below to give you a snapshot of how it works and a preview of 6 birthdays coming up next year.
MARCH 14
MIND
Albert Einstein 1879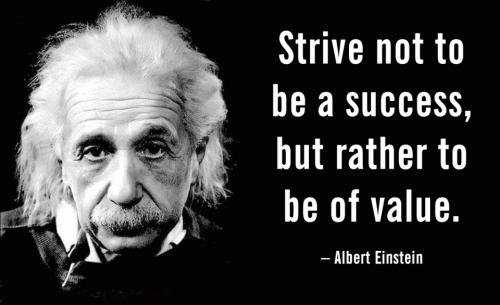 https://www.nobelprize.org/prizes/physics/1921/einstein/biographical/
Create Value: "Strive not to be a success, but rather to be of value."
How would you define success?  What will make your life a success?  These questions can be great ones to ask yourself.  It can be raising healthy and happy children, having meaningful and fulfilling relationships, being authentic in conversations, writing a book, loving a career, and feeling good everyday— whatever it is for you, that's where to place or continue to place your focus.  What we focus on truly expands.
https://www.virtuesforlife.com/10-great-life-lessons-from-albert-einstein/
Write down the following…
Your definition of success
What will make your life a success?
What makes you valuable to others?
If you don't know, today is the day to seek out answers to these questions.
JULY 7
BODY
Lisa Leslie 1972 – squats while brushing your teeth
https://www.biography.com/people/lisa-leslie-12816766
"My favorite workout involves an electric toothbrush and whole lot of squats. If you get an electric toothbrush it usually runs for two minutes [and] you do four quadrants of your mouth. While at the same time, you can do your squats. So I do my squats probably for a minute, which gets me about 50 squats in a minute and then I do leg lifts and raises for the other minute. That pretty much gets my teeth cleaned and my butt toned."
http://ftw.usatoday.com/2015/07/lisa-leslie-does-a-leg-workout-while-brushing-her-teeth
Tone your butt while brushing your teeth. This is a suggestion that you should do today and carry on doing it every day. * A life changer *
NOVEMBER 7
SOUL
Billy Graham 1918
The Lord thy God in the midst of thee is mighty; he will save, he will rejoice over thee with joy . . .
—Zephaniah 3:17
The world's millions could come down to the beach and reach out their hands to be filled with sea water. They could each take as much as they wanted, as much as they needed-and still the ocean would remain unchanged. Its might and power would be the same, the life in its unfathomable depths would continue unaltered, although it had supplied the needs of every single person standing with outstretched hands along its shores.
So it is with God. He can be everywhere at once, heeding the prayers of all who call out in the name of Christ; performing the mighty miracles that keep the stars in their places, and the plants bursting up through the earth, and the fish swimming in the sea. There is no limit to God. There is no limit to His wisdom. There is no limit to His power. There is no limit to His love. There is no limit to His mercy.
Prayer for the day
Almighty God, how glorious are my thoughts of You, for You are everywhere—loving and caring for the minutest details of our lives!
On Billy Graham's website you can get a daily devotional and a prayer for the day. This may be something that you want to put in your daily routine.
AUGUST 30
MONEY
Warren Buffett 1930
http://www.berkshirehathaway.com/
Watch Small Expenses: Warren Buffett invests in businesses run by managers who obsess over the tiniest costs. He once acquired a company whose owner counted the sheets in rolls of 500-sheet toilet paper to see if he was being cheated (he was). He also admired a friend who painted only on the side of his office building that faced the road. Exercising vigilance over every expense can make your profits — and your paycheck — go much further.
http://www.warrenbuffett.com/warren-buffett-10-ways-to-get-rich/
Exercise vigilance over every expense today – make it a habit. Check on your toilet paper too.
August 15
ENTERTAINMENT
Jennifer Lawrence 1990 –watch Silver Linings Playbook
http://jenniferlawrencefoundation.com/
Volunteer with the Jennifer Lawrence Foundation
The Jennifer Lawrence Foundation supports a variety of organizations and causes.
https://www.amazon.com/Silver-Linings-Playbook-Bradley-Cooper/dp/B00A81MV3U
Whatever you do, you've gotta find that silver lining – whether it's the people in your life, or a change in your own mindset, or an imperfect and realistic and human combo of both.
http://www.livingly.com/Things+We+Love/articles/5JNAg1JyNLb/Real+Life+Lessons+Learned+Silver+Linings+Playbook
Find that silver lining by watching JLAW win an Oscar in Silver Linings Playbook. Think of volunteering with her foundation.
FOOD
Julia Child 1912 – Napoleon's chicken
http://www.pbs.org/food/julia-child/
Recently, a cooking channel featured Julia's popular napoleon's chicken recipe. She related the fable of the Chicken Marengo recipe's origin as created by Napoleon's chef from the ingredients he had with him when they were at the battle of Marengo.
http://juliachildsrecipes.com/chicken-recipes/julia-childs-napoleons-chicken/
In honor of Napoleon (1769) and Julia Child's birthdays, make her Napoleon's chicken. Enjoy it while watching Silver Lining's Playbook.