GLADIATOR DAY
MIND
Tony Dorsett 1954
"I learned the lesson of being accountable. Coach taught me that if you do the little things in life, you can make big things happen. I had won numerous awards, including the Heisman Trophy. And then I learned humility from Tom Landry. He taught me discipline. I think he helped bring me back down to earth."
The game didn't rob him of his body.
But it did take his mind.
*Be accountable. Be humble. The little things in life can make big things happen. Dorsett learned a lot from his playing days. Unfortunately, the game has cost him his mind. H2P
BODY
Russell Crowe 1964 – watch Gladiator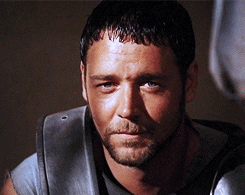 His training program included long distance cycling, intense boxing workouts and fighting drills in addition to hitting the weights to pack on lean muscle mass.
*Pick one of the above to be a Gladiator – long distance cycling, intense boxing, or hit the weights. Watch the movie for motivation.
SOUL
Billie Holiday 1915
"Do what you do with passion, heart, and individuality. So when it's your turn to be in the spotlight, it's all uniquely you!"
*Show passion, heart, and individuality all day today.
MONEY
Jackie Chan 1954
Jackie Chan firmly believes that if his children work hard enough they can achieve great success the same way he did.
*Make your children work for everything.
ENTERTAINMENT
Francis Ford Coppola 1939 – watch Apocalypse Now
*Watch Francis Ford Coppola almost win an Oscar in Apocalypse Now. His 5 Oscar wins have been or will be suggested later. Research possibly visiting Francis Ford Coppola's Winery.
FOOD
James Garner 1928 – beef
Actor James Garner, sidelined last week by quintuple-bypass heart surgery, is still a star in the eyes of the Beef Industry Council, which has no plans to drop him from its current "Beef: Real Food for Real People" ad campaign.
*Eat beef. It's real food for real people. Use today to make an appointment to get your heart checked too.
SNUB – John Oates 1948
Review –
Be accountable
Gladiator workout
Show passion, heart, and individuality
Make your children work for everything
Watch Apocalypse Now
Beef