LIVE LIKE MARKY MARK DAY
MIND
Robert Kraft 1941
"I know I played, two of my sons played, my three grandsons play so we have three generations playing the game, and I think the life lessons that you get playing football are worth the risk."
*What risks are you willing to take to learn life lessons? If you don't have a cryo chamber, get a massage at 9:30 a.m.
BODY
Amanda Crew 1986
After training for a role as a wrestler in the film Chokeslam, Amanda Crew unexpectedly fell in love with weightlifting.
"It sounds cheesy, but it completely transformed my life,"
"A good weight-training session is incredibly empowering, especially if I'm having a bad day."
*Get a "good weight-training session" in as one of your two workouts today.
SOUL
Brian McKnight 1969
*Think of donating to the McKnight 360 Foundation or donating time to help provide a well-rounded and positive educational experience to young people in need. And listen to some Brian McKnight – it's good for your soul.
MONEY
Suze Orman 1961
"Pull out your three most recent bank and credit card statements, circle every charge or debit that is not a necessity, and ask yourself, "Can I eliminate this cost entirely?" If not, can you scale it back 30 to 50 percent? Every time you cut expenses, you can put the money toward bigger goals."
*Do this during your 2 p.m. meetings/work calls.
ENTERTAINMENT
Mark Wahlberg 1971 – watch The Fighter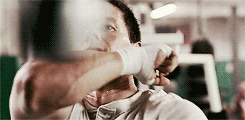 *Watch Wahlberg almost win an Oscar in The Fighter . If you are living like Marky Mark, make sure you start this movie by 5:30, so you are in bed by 7:30. Make boxing one of your two workouts today.
CROSSOVER: BODY
Wahlberg's typical daily schedule:
2:30 a.m. wake up
2:45 a.m. prayer time
3:15 a.m. breakfast
3:40-5:15 a.m. workout
5:30 a.m. post-workout meal
6 a.m. shower
7:30 a.m. golf
8 a.m. snack
9:30 a.m. cryo chamber recovery
10:30 a.m. snack
11 a.m. family time/meetings/work calls
1 p.m. lunch
2 p.m. meetings/work calls
3 p.m. pick up kids from school
3:30 p.m. snack
4 p.m. workout No. 2
5 p.m. shower
5:30 p.m. dinner/family time
7:30 p.m. bedtime
FOOD
Pancho Villa 1878 – Pancho Villa Stew
Pancho Villa's last words were – "It can't end like this. Tell them I said something."
http://www.geniuskitchen.com/recipe/pancho-villa-stew-336306
*Make this Pancho Villa stew 1 of your 7 meals today. Use his last words before going to bed tonight – at 7:30!
SNUB – Kenny G 1956
Review –
Take risks to learn life's lessons
Weight-training
Donate to McKnight 360 Foundation
Have self-discipline
Watch The Fighter
Make Pancho Villa Stew