LOTS OF SQUATS DAY
MIND
Jack London 1876
*You are never a victim and that despite your emotional ups and downs as external and internal factors impact you, you control your life rather than having your life control you. Your function is to live, not exist. 
BODY
Naya Rivera 1987
"Legs and butt get the most attention in the Cheerios uniform, so those are my target areas. Lots of squats,"
*Do lots of squats today.
SOUL
Joe Frazier 1944
Legendary heavyweight champion boxer Joe Frazier believed his Christian faith was responsible for his success in life.
*Have faith and success will follow you this year.
MONEY
Jeff Bezos 1964
*As you take this year to build your dream job, realize that you will be misunderstood by most people.
ENTERTAINMENT
Zayn Malik 1993
*Listen to Zayn and/or some One Direction.
FOOD
Howard Stern 1954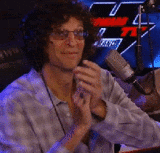 "I was eating salmon for lunch every single day,"
"Turns out fucking fish are assholes!" Howard joked. "These fish were getting back at me for eating them."
"Eggplant better not have mercury in it,"
"Fuck you, fish!"
*Eat plants instead of any fish today.
SNUB – Kirstie Allie 1951
Review –
Live – don't just exist
Lots of squats
Have faith
Be prepared to be misunderstood
Listen to Zayn Malik
Eat plants instead of fish