EAT LIKE COSTANZA DAY
MIND
Caesar Augustus 63
"The greatest impediments to changes in our traditional roles seem to lie not in the visible world of conscious intent, but in the murky realm of the unconscious mind."
*If you are seeking change, it starts in the MIND.
BODY
LisaRaye McCoy 1967
LisaRaye was a celebrity who came out years ago stating she decided to be celibate for her own reasons. Clean body, inside and out.
*Stay celibate today. Clean body, inside and out.
SOUL
Ray Charles 1930
"The Genius of Soul"
A man who overcame not only racial obstacles, but also physical obstacles, going blind from glaucoma by the age of seven.
*Overcome your obstacles by listening to the Genius of Soul –  Ray Charles.
MONEY
Mickey Rooney 1920
Despite a show business career spanning more than 80 years (nominated for 4 Oscars), Rooney lost most of his fortune to elder abuse and financial mismanagement by one of his stepsons. He died with $18,000 to his name, which all went to the son of his 8th wife.
AARP Long-Term Care Options from New York Life Insurance Company
Get the information you need to help protect your family, your assets, and your future.
*Use this as a cautionary tale to get long-term care insurance for you and the ones you love. 
ENTERTAINMENT
Bruce Springsteen 1949
He's still looking sharp and banging out hit albums and three-hour stadium gigs like a man less than half his age.
*Listen to "The Boss" throughout your day. Act like someone half your age today. Baby you were born to run.
FOOD
Jason Alexander 1959 – George Costanza day of eating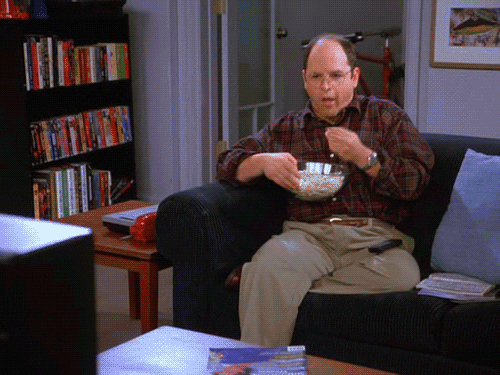 Breakfast – Éclair – "It was clean and on top."
Lunch – Eggplant calzone – When you're working for George Steinbrenner, you give the man what he wants. He wants George's eggplant calzone—every day.
Midday Snack – Chips and dip – "You dip the way you want to dip…I'll dip the way I want to dip."
Dinner – Turkey chili – follow the rules of the "Soup Nazi." and a stolen marble rye for dipping
Dessert – Ice cream sundae – George was caught on TV at the US Open with an ice cream sundae dripping all over his face
Late night snack – Pastrami on rye – Go for his dream trifecta: eating, watching TV and having sex all at the same time.
*Eat like George Costanza all day. Make it like "The Summer of George!"
SNUB – Anthony Mackie 1978
Review –
Change starts with the mind
A day of celibacy
Listen to Ray Charles
Get long-term care insurance
Listen to Bruce Springsteen
Eat like George Costanza