Search for the * for today's advice.
PISTOL PETE DAY
MIND
Dan Brown 1964
I was raised Episcopalian, and I was very religious as a kid. Then, in eighth or ninth grade, I studied astronomy, cosmology, and the origins of the universe. I remember saying to a minister, "I don't get it. I read a book that said there was an explosion known as the Big Bang, but here it says God created heaven and Earth and the animals in seven days. Which is right?" Unfortunately, the response I got was, "Nice boys don't ask that question." A light went off, and I said, "The Bible doesn't make sense. Science makes much more sense to me." And I just gravitated away from religion.
https://parade.com/106060/jameskaplan/13-dan-brown-life-after-da-vinci-code/
*Science or religion is a choice you may have to make. Unless you want to be a good boy and not ask hard questions.
BODY
Pete Maravich 1947
This is a great stationary ball handling series that improves your feel for the ball while improving…
Hand-Eye Coordination
Hand Quickness
Rhythm
Hand, Wrist, and Finger Strength
https://www.breakthroughbasketball.com/drills/maravichdrills.html
*Work on these ball handling drills to be like Pistol Pete today.
SOUL
Kurt Warner 1971
When former quarterback Kurt Warner became an overnight sensation for the St. Louis Rams in the late 1990s, he rubbed a few people the wrong way for his outspoken Christian faith. He says he learned the hard way that he should've been more sparing with his religious rhetoric, and that he should've simply let his actions do most of the talking.
https://www.christianitytoday.com/news/2011/november/kurt-warner-to-tebow-tone-down-faith-talk.html
*Let your actions do the talking when it comes to your faith.
MONEY
Richard Drew 1899
http://news.3m.com/press-release/company/3ms-richard-drew-inventor-scotch-brand-masking-and-cellophane-tapes-inducted-n
"3M" comes from "Minnesota Mining & Manufacturing," but those three M's might better stand for Mistake = Magic = Money.
http://money.cnn.com/magazines/fsb/fsb_archive/2003/04/01/341016/
*Learn from your mistakes to come up with magic, which will lead to the money. Put it on a sticky note.
ENTERTAINMENT
Cyndi Lauper 1953
https://twitter.com/cyndilauper?ref_src=twsrc%5Egoogle%7Ctwcamp%5Eserp%7Ctwgr%5Eauthor
Find something that inspires you and go after it.
Cyndi Lauper decided after 25 years as one of the most bad ass rocker chicks in the business  to write a Broadway musical starring drag queens.  She is a longtime advocate for equality and instead of sitting around talking about how important it is to embrace everyone, she wrote a musical that put an often discriminated against group of people center stage.  What happens if we all take the chance to pursue something we're passionate about.  What if we combine what we're really good at with what pisses us off?  If your Cyndi Lauper, you create Kinky Boots but what will you create? Isn't it time you found out?
https://merrfeld.com/2013/11/06/4-business-lessons-cyndi-lauper-taught-me/
*Girls just wanna have fun and so should you. Learn from and listen to Cyndi Lauper.
FOOD
Meryl Streep 1949 – Julia's Tomato Bruschetta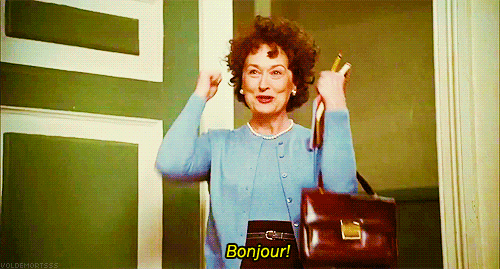 http://www.simplystreep.com/
#10 Julie & Julia (2009; nominated for Best Actress, lost to Sandra Bullock in The Blind Side)
Sight unseen, it was easy to dismiss Julie & Julia as just another Streep stunt, the revered chameleon taking on the accent and demeanor of beloved celebrity chef Julia Child. But although she nails Child's adorable, slightly wobbly essence, Streep goes far deeper than that, finding the pathos in a quiet revolutionary who faced a good amount of sexism both in her professional and personal life by daring to be a working woman in the 1950s. Especially compared to the underwhelming "Julie" half of director Nora Ephron's comedy-drama — the usually great Amy Adams is stuck playing a mopey modern gal — Streep's moving performance was a reminder of how easy it is to take what she does for granted.
Sophie's Choice(1982; won Best Actress)
So this is the Streep performance that made everyone realize — at the age of 33 — that we were dealing with an all-timer.
https://www.vulture.com/2015/08/all-42-meryl-streep-movie-performances-ranked.html
https://dandelionwebdesign.com/julie-julia/
http://www.sonypictures.com/movies/juliejulia/
http://www.tineathome.com/julie-julias-tomato-bruschetta/
*Of course Meryl Streep could be the ENTERTAINMENT section, but she did play an icon of FOOD in Julia Child. Watch Julie and Julia and enjoy Julia's Tomato Bruschetta
SNUB – Erin Brokovich
Review –
Science or religion?
Ball handling drills
Let your actions do the talking
Learn from your mistakes to come up with magic
Listen to Cyndi Lauper
Watch Julie and Julia