Look for the * for today's advice.
BANG BANG GORILLA DAY
MIND
Matt Damon 1970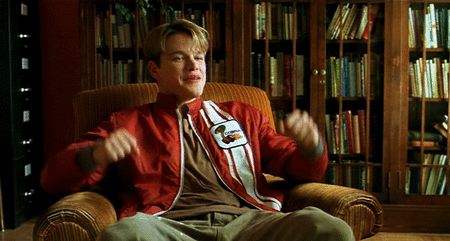 http://www.dailyedge.ie/matt-damon-reddit-ama-1305010-Feb2014/
Don't wait for things to happen, make them happen.
Damon and Ben Affleck were struggling to find a place for themselves in the film industry so they decided to write themselves in. Literally.
… it's just looking for creative ways to break in. If you just sit on your hands it's never gonna happen, its just too competitive.
They penned a little film by the name of Good Will Hunting and, well, we all know how that worked out, don't we?
https://www.foxmovies.com/movies/the-martian
Matt has long been devoted to environmental and social issues. Learning about the immense challenges of accessing safe water and sanitation in Sub-Saharan Africa, Matt was inspired to create the H20 Africa Foundation. In 2009, he teamed up with Gary White to merge their organizations and launch Water.org.
*Make your life happen. Write yourself into the script.
You've already watched Good Will Hunting on Robin Williams' birthday. If you want to watch another Matt Damon movie, watch him in The Martian and go home tonight, put your arms around the people you love and hold them tight. Tell them what they mean to you, and how empty and meaningless your life would be without them.
Life changes in an instant – for the good and the bad. Don't live a life filled with unsaid words and regret.
Also, think of donating to water.org
BODY
Sigourney Weaver 1949
http://themanyfacesof.com/sigourney-weaver/
Aliens, demigods, Carpathians, and reptilian humanoid warlords all cower in her presence. She's been possessed, impregnated, beamed up, and imprisoned, but has never given up. She's the undisputed toughest, most badass actor in all of science fiction history. She's Sigourney f#@king Weaver.
http://www.onlycelebritydiets.com/sigourney-weaver-diet-work-out-plan/
"As lovely as it is drinking champagne and having sumptuous food, your body needs to recover from these excesses. The body is an amazing instrument with great self-healing properties, and things like acupuncture and massage help the body regain strength and health. I'd much rather that than pump my body full of chemicals."
https://www.amazon.com/Aliens-Sigourney-Weaver/dp/B001609SQA
*Watch Aliens (1986) and then get acupuncture and a massage to relieve the stress.
SOUL
Jesse Jackson 1941
http://rainbowpush.org/pages/jackson_bio
"If Dr. King and our civil rights movement have taught us anything, it's the fundamental principle that all people deserve equal protection under the law. LGBT people deserve equal rights — including marriage equality. Discrimination against one group of people is discrimination against all of us.
http://ideas.time.com/2012/05/17/what-the-rev-jesse-jackson-has-to-say-about-gay-marriage/
*Discrimination against one group of people is discrimination against us all. Everyone has the right to be miserable in a marriage.
MONEY
Travis Pastrana 1983
https://www.phillyvoice.com/travis-pastrana-interview-transcript/
Speaking of being responsible for the lives' of others, you have two daughters now. What will you tell them if they want to follow in your footsteps?
"For me, I definitely think their mom is more passionate in hoping they take up the action sports lifestyle, but I hope they take the action sports mentality. Wake up every morning with a passion. Do what you do because you love it; there's no amount of money worth risking your life for. But if you're so passionate about it — and just to grow up around this Nitro Circus crew, where every single person is just full of life and passion and wakes up every day with a big smile on their face. I hope [my daughters] take that and realize that — if you like desk jobs or you like art museums or horses or whatever — if you love it, that's what you should be doing."
*If you love it, that's what you should be doing.
ENTERTAINMENT
Bruno Mars 1985
Bruno Mars is one of the world's biggest music stars and he's one of the most driven people we've ever seen. Just 31, he's the product of what he calls a "school of rock" education — a working class life of experiences that have taught him the music business. None of it came easily. He's been broke, busted and nearly homeless. But this week, following the release of his first album in four years, he's on top of the music world.
https://www.cbsnews.com/news/60-minutes-bruno-mars-24k-magic-uptown-funk-success/
*This is an artist that is easy to listen to all day.
FOOD
Chevy Chase 1943 – lamb fries
https://www.washingtonpost.com/graphics/2018/lifestyle/chevy-chase-cant-change/?utm_term=.6ff781424c3b
Chase is a key piece of SNL's history, whether establishing "Weekend Update" or pioneering the path from Studio 8H to Hollywood stardom. When asked what he thinks of the current show, he doesn't hold back, delivering a foul-mouthed appraisal that's as unforgiving as his critics. "First of all, between you and me and a lamppost, jeez, I don't want to put down Lorne or the cast, but I'll just say, maybe off the record, I'm amazed that Lorne has gone so low. I had to watch a little of it, and I just couldn't f—— believe it."
https://deadline.com/2018/09/chevy-chase-saturday-night-live-washington-post-will-ferrell-tina-fey-dan-aykroyd-1202467741/
THE DINER: Andy Farmer (Chevy Chase), a New York City sportswriter who has moved to rural Vermont to work on his novel
THE SETTING: Dining with his wife at a local café, he's served multiple helpings of "lamb fries"—and consumes them with great levels of wide-eyed Chase-ian gusto. "Now there's a man who knows he's got something good in his mouth!," observes a much-impressed onlooker.
THE MEAL: "Lamb fries" = lamb testicles
http://entertainment.time.com/2012/09/17/gross-point-blank-10-most-disgusting-eating-scenes-from-movies/slide/funny-farm/
https://www.allrecipes.com/recipe/144909/lemon-pepper-lamb-fries-lemon-pepper-mountain-oysters/
https://www.amazon.com/Funny-Farm-Chevy-Chase/dp/0790740044
*Have a friend over and serve them lamb fries and Stella Artois .Then watch Chevy Chase in Funny Farm.
Water.org, a charity started by Matt Damon and engineer Gary White in 2009, has partnered with Beer Company Stella Artois to help end the global water crisis.
https://people.com/movies/matt-damon-stella-artois-clean-water-millions/
SNUB – Angus T. Jones
Review –
Make your life happen
Acupuncture and a massage
Discrimination against one is discrimination against all
If you love it, that's what you should be doing
Listen to Bruno Mars
Make lamb fries