Look to the * for today's advice.
MY WAY DAY
MIND
John Jay 1745
https://www.state.gov/discoverdiplomacy/explorer/peoplehistorical/209114.htm
The balding, gray-eyed Jay lived quietly and died quietly, not on a battlefield or in a duel with Aaron Burr, but in his library, at age 83. He was not a humorist like Franklin, or intemperate like Hamilton, but dependable and unusually honorable.
http://www.pbs.org/newshour/rundown/forgotten-founding-father/
*Live and die the way that you want to. Regardless of what your peers do, be dependable and live honorably.
BODY
Jennifer Connelly 1970
https://www.facebook.com/JenniferConnelly
My nickname on the cross-country team at Stanford was 'Death Grip' because I was so slow. Basically, I was the team mascot."  Nowadays Jennifer runs for "six to 10 miles on trails through the woods at our place up in the country."
http://www.howcelebritiesloseweight.com/jennifer-connelly-celebrity-diet-workout-and-weight-loss/
https://www.amazon.com/Beautiful-Mind-Russell-Crowe/dp/B00ENYKBD0
*Run for 6-10 miles on trails today. It's OK if you run 'Death Grip' slow.
SOUL
Dionne Warwick 1940
Contrary to what some people say, the legendary Dionne Warwick got her start in gospel music and says she has never abandoned her faith or her church.
http://www.christianitytoday.com/ct/2008/aprilweb-only/dionnewarwick-0408.html
*Regardless what people say, don't abandon your faith or the church. Listen to Dionne Warwick for inspiration.
MONEY
Bob Barker 1923
https://www.cnn.com/2013/06/24/us/bob-barker-fast-facts/index.html
Naturally, I loved the showcases, the cars and "Barker's Beauties." But what kept me coming back was the daily lesson in the principles of behavioral finance. If you wanted to know how to exploit — or get trapped by — market inefficiencies and the often irrational behavior of competitors, "The Price Is Right" was essential.
http://www.npr.org/templates/story/story.php?storyId=11070894
How to Overcome Irrational Decision Making
Regardless if you believe in behavioral finance or not, the fact is we as humans make irrational decisions all of the time. In order to improve our finances, we have to improve upon the choices we make by decreasing the likelihood of irrational decisions.
How do we do this? There are a few steps to help us, including:
Get all the information: don't just look for information that supports your beliefs. Seek out information that contradicts it and put all of the information together to make a smarter decision.
Keep emotions in check: we never make wise decisions when we are in an emotional state. As a result, we need to understand when our emotions are driving our decisions. The more you can sit back and calm down so you can think with a clear mind, the more likely you will be to make smarter choices.
Take your time: I touched on this with the point above, but here it is again. Take your time before you make any decision. Collect all information, wait for your emotions to not factor in, and allow yourself to think clearly about the issue. The faster we make decisions, the more likely we make the wrong one. Don't give in to the pressure and take your time when making decisions.
*Before investing or making a big purchase, get all the information, keep emotions in check, and take your time.
https://www.modestmoney.com/behavioral-finance-investing-advantage/40437/
ENTERTAINMENT
Frank Sinatra 1915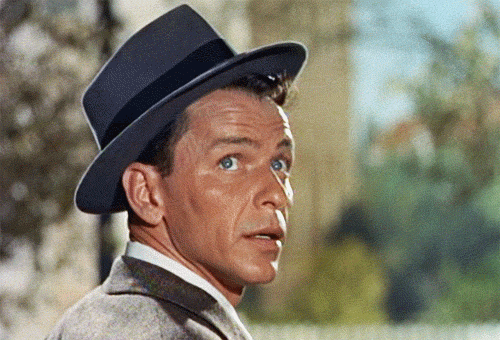 https://www.amazon.com/Here-Eternity-Montgomery-Clift/dp/B00005JKF6
My Way by Frank Sinatra
My Way: The Best Of Frank Sinatra, Reprise, 2002
"He sums a lot of shit up for me. In life, you come in on your own, you go out on your own. I feel outside of everything, always have done, but I try to be so with dignity. As you get older you become more philosophical, but 'My Way' still sums up being a man – sometimes you have to do it your own way even if nobody else agrees with you."
https://www.gq-magazine.co.uk/gallery/gq-music-50-songs-that-make-us-feel-like-men-playlist
*Do it your way and listen to Sinatra all day. You can also watch him win an Oscar in the movie From Here to Eternity.
FOOD
Mike Golic 1962 – Fall Harvest Hungarian Goulash
https://twitter.com/espngolic?ref_src=twsrc%5Egoogle%7Ctwcamp%5Eserp%7Ctwgr%5Eauthor
https://twitter.com/GolicAndWingo?ref_src=twsrc%5Egoogle%7Ctwcamp%5Eserp%7Ctwgr%5Eauthor
Mike Golic (ESPN Radio's 'Mike and Mike' and Golic and Wingo) helps Michael Symon make Fall Harvest Hungarian Goulash.
https://abc.go.com/shows/the-chew/video/most-recent/VDKA4116191
*I listen to Golic and Wingo every morning on my way to work. My grandfather was born in Budapest, Hungary – so I've eaten my fair share of goulash. Listen to Frank Sinatra while making it and then enjoy eating it while watching Sinatra in From Here to Eternity.
SNUB – William Lloyd Garrison
Review –
Live and die the way that you want to
Run 6-10 miles on trails
Don't abandon your faith
Get all the information, keep emotions in check, and take your time.
Listen to Frank Sinatra
Make Hungarian goulash