FIND YOUR PRAYER DAY
MIND
Isaac Asimov 1920
http://www.startribune.com/variety/comicgames/games/superquiz/
*Take some of Isaac Asimov's SUPER QUIZZES to stimulate your mind.
BODY
Karina Smirnoff 1978
Never do the same workout twice. Mix it up so your body doesn't plateau.
Eat watermelon and asparagus as diuretics. They are great for the body because they help get toxins out.
Eat spinach because it's a great source of fiber and keeps you full.
*Lots of good advice from Dancing with the Stars' Karina Smirnoff.  It's the top one that is fitting for 365DOLF.  "Never" is a strong word for the entire year, but try and avoid constantly doing the same workout.  This is also a good example of daily advice for both working out and eating right.
SOUL
Therese of Lisieux 1873
*Find a prayer that feeds and satisfies your soul, especially when you cannot summon a single positive thought.
My Daily Prayer will be:
Short Prayer for Growing Faith
Dear Lord, help me – every single morning – to find faith in the midst of the chaos. Give me the desire and ability to see You, hear You, talk to You, and give thanks to You. 
MONEY
Cuba Gooding Jr. 1968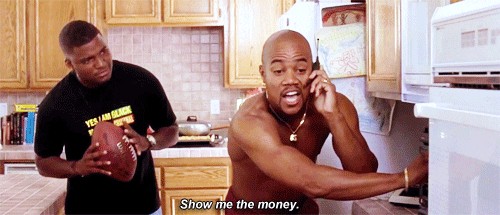 "Show me the money!"
Show Me the Money: Tips On Saving
The Five Dollar Challenge: Anytime you come across a $5 bill, put it away. At the end of the year, use that money towards a fun big purchase, or put it towards your savings account.
*You actually don't have to wait the entire year.  Tom Cruise's birthday is July 3 (literally almost born on the 4th of July), watch Jerry Maguire on that day and when Cuba Gooding Jr. says his famous line, brake open that piggy bank and count all of those $5 bills, while saying "show me the money!"
ENTERTAINMENT
Dax Shepard 1975
*Listen to his podcast – Armchair Expert – last year's most downloaded new podcast on iTunes.
FOOD
Kate Bosworth 1983
*For Bosworth, a typical breakfast might include a goat cheese omelet with avocado and tomatoes.
CROSSOVER: *As far as meals are concerned, take some more advice from Katrina Smirnoff and work some watermelon, asparagus, and spinach into your diet, also in her honor, have a Smirnoff on ice to wind down for the day.
WHO GOT SNUBBED? – Nathaniel Bacon
REVIEW
Take Super Quizzes
Mix up your workouts
Have a daily prayer
Start the $5 challenge
Listen to Dax's podcast
Goat cheese omelet with avocado and tomatoes