Look to the * for today's advice.
CHRISTINA HENDRICKS APPRECIATION DAY
MIND
Niccolo Machiavelli 1469
They found Machiavellians' brains went into overdrive when they encountered a partner who exhibited signs of being fair and cooperative.
http://www.dailymail.co.uk/sciencetech/article-3204104/Do-Machiavellian-mind-Researchers-brains-Frank-Underwood-trait-overdrive-s-opportunity-rip-off.html
*A good day to harness your inner Machiavellian brain, learn to sell, and watch Mad Men.
BODY
Cheryl Burke 1984
"Dancing is the best exercise," Cheryl says. "Not only is it great cardio, but it works everything, strengthening your whole body."
http://www.health.com/health/gallery/0,,20307347,00.html
*Take your better half dancing tonight.
SOUL
James Brown 1933 – The Godfather of Soul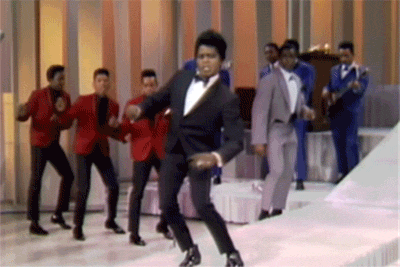 He was variously tagged "Soul Brother Number One," "the Godfather of Soul," "the Hardest Working Man in Show Business," "Mr. Dynamite" and even "the Original Disco Man." This much is certain: what became known as soul music in the Sixties, funk music in the Seventies and rap music in the Eighties is directly attributable to James Brown.
https://rockhall.com/inductees/james-brown/bio/
*Listen to the Godfather of Soul James Brown, until you can scream – "I feel good!"
MONEY
Damon Dash 1971
http://www.damedashstudios.com/#/
Dame Dash: The new business model is managing your audience directly. Learn how to sell products, experiences and merchandise direct-to-consumer.
http://financialjuneteenth.com/how-damon-dash-blew-millions-and-went-flat-broke/
Perhaps the most important subject you can study is sales. Yet many of the smartest students avoid learning it, and some of the best colleges shun teaching it. Successful people learn how to sell one way or the other. If they do not learn a formal process as outlined in this post, they may make costly mistakes and develop bad habits. If you want to increase your chances of success in business and in life, it will greatly help you to learn the sales process and practice it so it becomes part of your marketing DNA.
https://www.businessinsider.com/the-secret-to-greater-success-is-learning-how-to-sell-2013-10
*Increase your chances of success in business and in life, learn to sell, sell, sell.
ENTERTAINMENT
Christina Hendricks 1975 – watch Mad Men
https://www.biography.com/people/christina-hendricks-17166486
Actress Christina Hendricks, named the sexiest woman alive by Esquire magazine, is known for playing Joan Holloway on the TV series Mad Men.
http://www.amc.com/shows/mad-men
*Watch as many episodes of Mad Men as you can today.
FOOD
Ann B. Davis 1926 – pork chops and apple sauce
https://www.biography.com/people/ann-b-davis-21302863
Emmy-winning actress Ann B. Davis is best known for playing the wise-cracking, live-in housekeeper Alice on the 1970s television sitcom The Brady Bunch.
https://www.metv.com/lists/9-fascinating-facts-about-ann-b-davis
http://greatideas.people.com/2014/06/02/alice-brady-bunch-ann-b-davis-recipes-pork-chop-applesauce/
*Just like the Brady Bunch – eat your pork chops with apple sauce – while watching Mad Men. Wash it down with a…
Gin Gimlet: Joan Holloway
If there is ever a hair out of line, Joan would be the first to know. Sweet with a kick, a gin Gimlet consists of gin, simple syrup, and lime juice. It may be sweeter than most cocktails but don't let it deceive you. Just like Joan, this drink looks innocent, but is all business. If you like to take control, and run the show, all while maintaining perfect etiquette, you're just like Joan and this is your drink.
https://spoonuniversity.com/lifestyle/which-mad-men-character-you-are-based-on-what-you-drink
SNUB – Bing Crosby
Review  –
Harness your Machiavellian brain
Dance
Listen to The Godfather of Soul
Learn to sell
Watch Mad Men
Make pork chops and applesauce