Look to the * for today's advice.
MOTHER'S DAY
MIND
Yogi Berra 1925
If the sayings of the late Yogi Berra are to be taken literally, quite a few dead people will be attending his funeral.
"Always go to other people's funerals, otherwise they won't come to yours," was one of the many malapropisms attributed to the Sage of Montclair.
http://www.nj.com/opinion/index.ssf/2015/09/in_plain_english_yogi_berra_was_a_genius_mulshine.html
*Go to things. Go to weddings. Go to funerals. Let people know that you are supporting them. I was married on 7/1/17 and my dad's funeral was on 6/2/18. My friends who were there for me on both of these days will always be special to me.
BODY
Malin Akerman 1978
https://twitter.com/malinakerman
https://www.sunset.com/home/architecture-design/malin-akerman
Short-circuit your routine
Blast fat with a circuit that includes strength training and cardio: Do a set of push-ups, jump rope for a minute, do a set of squats, jump rope again; continue to alternate strength and cardio. "You're building muscle while keeping your heart rate high,"
http://www.womenshealthmag.com/fitness/malin-akermans-workout-tips
https://www.uphe.com/movies/couples-retreat
*Complete this circuit until failure to build muscle while keeping your heart rate high. And watch Couples Retreat again for motivation.
SOUL
Florence Nightingale 1820
http://www.florence-nightingale.co.uk/?v=7516fd43adaa
Nightingale's family expected her to act like other well-bred Victorian ladies: decorative, amusing, and submissive. But the intelligent, high-spirited Florence felt driven to alleviate the suffering of the sick and poor.
http://www.quillandquire.com/review/heart-and-soul-the-story-of-florence-nightingale/
https://www.publichealth.org/volunteering/
*Feel driven to alleviate the suffering of the sick and the poor. Volunteer today.
MONEY
Tony Hawk 1968
You can live comfortably and be happy and not always aspire for something bigger and better – for more. I did that for a big part of my life, and realized that it's more fun to embrace what you have and to enjoy those things, even if it's not the most expensive or flashiest.
https://www.reuters.com/article/us-money-lifelessons-tonyhawk/how-skateboard-legend-tony-hawk-plans-for-the-long-road-ahead-idUSKBN184166
*Embrace what you have and enjoy your life. Your life could be much better if you were like Tony Hawk and made a fortune out of doing what you love.
ENTERTAINMENT
Rami Malek 1981 – watch Bohemian Rhapsody
https://twitter.com/itsramimalek?lang=en
Rami Malek said he felt "incredibly insecure" the moment he put in the prop teeth designed to make him look like Freddie Mercury – and immediately realized how important the real teeth had been to the development of the Queen icon's character.
Malek has been connected with Oscar rumors for his performance in Bohemian Rhapsody, which opens in theaters on Nov. 2. He previously revealed he'd had the prop teeth coated in gold and kept them as a memento, noting it was "probably the most ostentatious thing" he'd ever done, and that it was "in the spirit of Freddie."
http://ultimateclassicrock.com/freddie-mercury-teeth-rami-malek/
https://www.foxmovies.com/movies/bohemian-rhapsody#featured-videos
*Watch Rami Malek win an Oscar as Freddy Mercury in Bohemian Rhapsody. Scaramouche, Scaramouche, will you do the Fandango?
FOOD
Jason Biggs 1978 – American apple pie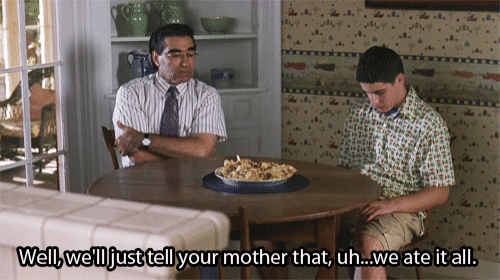 https://twitter.com/jasonbiggs?lang=en
The MPAA handed the film an NC-17 rating (meaning nobody 17 and under could see the movie, even with adult supervision). When the infamous pie scene was edited down, they got their R.
THE APPLE PIE WAS PURCHASED AT A COSTCO
http://mentalfloss.com/article/65909/16-delicious-facts-about-american-pie
https://www.amazon.com/American-Pie-Unrated-Widescreen-Collectors/dp/B000031WD9
http://allrecipes.com/recipe/12092/american-apple-pie/
*Follow the recipe to make an American apple pie, or just get one from Costco. Please just eat the pie – your mother will be proud.
THE "PALE ALE" WAS BEER WITH EGG WHITES.
Like any good actor, Scott pretended it was just beer for every take.
*Wash down the American Pie with a beer with egg whites.
SNUB – Katharine Hepburn
Review –
Go to events to support people
Circuit workout
Help alleviate the suffering of the sick and the poor
Make a fortune by doing what you love
Watch Bohemian Rhapsody 
Make American Apple Pie