Look for the * for today's advice.
SWEAT FOR FUN DAY
MIND
Madame Curie 1867
https://www.nobelprize.org/prizes/physics/1903/marie-curie/biographical/
She immersed herself in French and math and made ends meet cleaning glassware in university labs. She rationed her intake of food until, on more than one occasion, she collapsed of weakness. Science thrilled her, and she earned a degree in physics in 1893 and another in mathematics the following year.
http://www.smithsonianmag.com/history/madame-curies-passion-74183598/
*Immerse yourself in what thrills you. Even if you have to grind to make ends meet.
BODY
Amy Purdy 1979
Sweat for fun, not work. As a professional athlete, this one may be trickier for Purdy than most. But doing a workout you're excited about, rather than one you feel forced to finish, is critical to staying on top of your game, says Purdy. "Working out for me…[is] more to take care of myself and get those endorphins going versus it being a job like it was a few years ago
http://www.fitnessmagazine.com/blogs/the-fit-stop-8/
https://www.ted.com/talks/amy_purdy_living_beyond_limits/transcript?language=en
Amy was also featured in a Super Bowl Commercial for her partner Toyota which aired just after kickoff. The commercial fettered Amy Running, Dancing, Snowboarding, modeling and speaking all to the voice of the great Mohammad Ali and his " How Great I am" speech.
*Get those endorphins going today by running, dancing, and/or snowboarding. Watch Amy Purdy's TED talk about living beyond limits, for motivation – you have no excuses today.
SOUL
Billy Graham 1918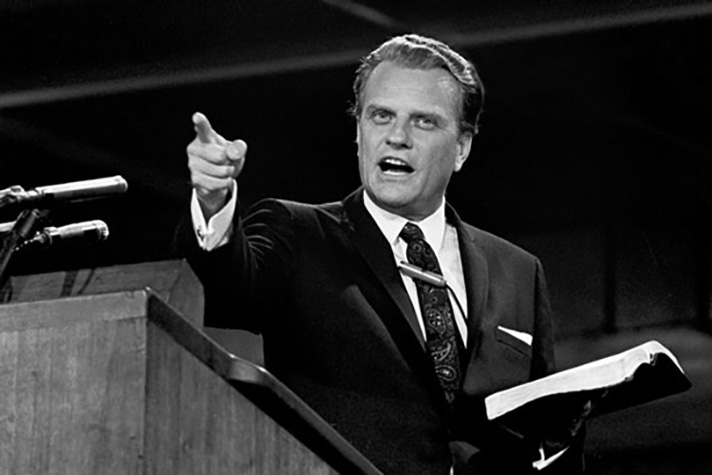 Limitless God
By Billy Graham   •   November 8   •   Topics: God
The Lord thy God in the midst of thee is mighty; he will save, he will rejoice over thee with joy . . .
—Zephaniah 3:17
The world's millions could come down to the beach and reach out their hands to be filled with sea water. They could each take as much as they wanted, as much as they needed-and still the ocean would remain unchanged. Its might and power would be the same, the life in its unfathomable depths would continue unaltered, although it had supplied the needs of every single person standing with outstretched hands along its shores.
So it is with God. He can be everywhere at once, heeding the prayers of all who call out in the name of Christ; performing the mighty miracles that keep the stars in their places, and the plants bursting up through the earth, and the fish swimming in the sea. There is no limit to God. There is no limit to His wisdom. There is no limit to His power. There is no limit to His love. There is no limit to His mercy.
Prayer for the day
Almighty God, how glorious are my thoughts of You, for You are everywhere—loving and caring for the minutest details of our lives!
*On Billy Graham's website you can get a daily devotional and a prayer for the day. This may be something that you want to put in your daily routine.
MONEY
Laura Vitale 1986
https://www.youtube.com/user/LauraVitalesKitchen
The channel has over 2.8 million subscribers as of early 2017 and has accumulated over 400 million views so far. It is able to get an average of 230,000 views per day from different sources. This should generate an estimated revenue of around $350 per day ($130,000 a year) from the ads that appear on the videos.
http://naibuzz.com/2017/02/23/much-money-laura-kitchen-makes-youtube-net-worth/
http://www.laurainthekitchen.com/
*This makes me realize that I need to get a 365DOLF youtube channel. My ultimate goal is to have a 365DOLF satellite radio station one day.
ENTERTAINMENT
Morgan Spurlock 1970 – watch Super Size Me
Morgan Spurlock is an award-winning and Academy Award-nominated writer, director and producer and president and founder of full-service New York-based production studio Warrior Poets. His first film, SUPER SIZE ME, premiered at the Sundance Film Festival in 2004, winning Best Directing honors. The film went on to win the inaugural Writers Guild of America Best Documentary Screenplay award as well as garner an Academy Award nomination for Best Feature Documentary.
https://www.amazon.com/Super-Size-DVD-John-Banzhaf/dp/B0002OXVBO
*Get some McDonald's food (maybe for the last time) and watch Super Size Me. It almost won an Oscar and it may just keep you from eating fast food ever again.
FOOD
Captain James Cook 1728 – crockpot brown sugar pineapple ham
http://allrecipes.com/recipes/734/us-recipes/us-recipes-by-state/hawaii/
http://www.laurainthekitchen.com/recipes/crockpot-brown-sugar-pineapple-ham/
Natives mistook him for a god when he landed in the Hawaiian Islands. 
During Cook's third voyage, he became the first European to set foot on Hawaii, which he called the "Sandwich Islands" after his patron the Earl of Sandwich. Hawaiians at Kealakekua Bay celebrated Cook's January 1779 landing with joyous celebrations, and for good reason: by some strange coincidence, the explorer's arrival coincided with an annual festival honoring the Hawaiian fertility god Lono. Since the natives had never seen white men or massive sailing ships like Cook's, they assumed he was their deity and lavished him with feasts and gifts. The Europeans responded by greedily stripping Kealakekua of food and supplies, but when one of Cook's sailors died from a stroke, the natives realized the strangely dressed Europeans weren't immortals after all. From then on, Cook's relationship with the Hawaiians became increasingly strained.
https://www.history.com/news/10-things-you-may-not-know-about-captain-james-cook
*Enjoy Laura Vitale's brown sugar pineapple ham, using ingredients from Hawaii to celebrate the birthday of Captain James Cook.
Captain Morgan Original Rum & Pineapple Juice
Add a tropical touch with a pour of pineapple juice that picks up on the Caribbean connections of Captain Morgan Original Rum for a delicious mixed drink.
https://uk.thebar.com/recipe/captain-morgan-original-rum-and-pineapple-juice
*And wash it down with a Captain and Pineapple.
SNUB – Lorde
Review –
Immerse yourself in what thrills you
Sweat for fun
Get a prayer for the day
Get a YouTube channel
Watch Super Size Me
Make crock-pot brown sugar pineapple ham