SANDWICH DAY
MIND
Bertrand Russell 1872
"Three passions, simple but overwhelmingly strong have governed my life: the longing for love, the search for knowledge, and unbearable pity for the suffering of mankind."
*Starting today, think about having these three passions govern your life.
BODY
Reggie Jackson 1946
He no longer squats but does quad and hamstring work to keep things in balance
http://www.bodybuilding.com/fun/carbonics1.htm
*Do this quad and hamstring workout and think about how Mr. October was born in May.
SOUL
Pope John Paul II 1920
His response to personal pain wasn't to retreat from the world, but to embrace it with the love of Jesus himself, whose Sacred Heart is simultaneously the icon of profound pain and perfect charity.
*Embrace personal pain and grow from it.
MONEY
Jens Bergensten 1979
Sure, the money was flooding in, but mainly as an excuse not to do the boring stuff, right? The kind of stuff that Jens very much associated with working for a company like Microsoft.
*It's an existential crisis. Could you be happy making lots of money for doing something boring? Maybe – until you've made enough to do what you want to do.
ENTERTAINMENT
Jack Johnson 1975
*Make your dreams a reality and listen to Jack Johnson for inspiration.
FOOD
Tina Fey 1970 – Grilled Chicken Sandwiches with Mozzarella, Tomato and Basil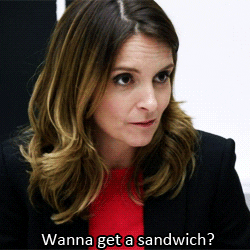 In an episode called "Sandwich Day," the special hoagie set aside for Liz Lemon (Tina Fey) is stolen, so her colleagues spend the day trying to find her another amazing Italian grinder like this one, which is piled high with grilled chicken, fresh mozzarella and basil.
https://www.foodandwine.com/slideshows/30-rock-recipes#1
https://www.foodandwine.com/recipes/grilled-chicken-sandwiches-with-mozzarella-tomato-and-basil
*Listen to Jack Johnson while making this sandwich and then enjoy it while watching 30 Rock – "Sandwich Day."
SNUB – Jimmy "Superfly" Snuka 1943
Review –
Have 3 passions govern your life
Quad and hamstring workout
Embrace personal pain and grow from it
Can you make money if you're bored?
Listen to Jack Johnson
Make an Italian grinder