IMAGINE DAY
MIND
David Cameron 1966
"Stability. Security. The peace of mind that comes from being able to get a decent job and provide for your family, in a country that you feel has a good future ahead of it and that treats people fairly. In a nutshell, that is what people in Britain want – and what the Government I lead is dedicated to building."
*As you continue with 365DOLF, this is what you are looking for in yourself. Hopefully you've found many of these things already. 
BODY
Annika Sorenstam 1970
"One of the first fundamentals in fitness and in golf is strengthening the core. The core connects and stabilizes the upper and lower parts of the body. It is important throughout the swing to 'stay connected and simply rotate your core. Through core strength training
and conditioning I was able to hit the ball longer with a smooth, easy swing. I was also able to stay fit, strong, and competitive throughout my golfing career."
*Have your trainer put you through a core strengthening workout. Then play a round of golf.
https://www.golfdigest.com/gallery/photos-annika-sorenstam-shape-body
SOUL
Mike Singletary 1958
"Because too many times in life there's just one person that I met, just one thing that I heard, one movie that I saw, one song that was sung, that changed my life. So I'm always trying to stay awake to be in the moment, and capture the moments when they come, because they come and go all the time."
*Stay awake to be in the moment – it will change your life.
MONEY
John O'Hurley 1954
"I felt that I understood the mistakes and took ownership of the mistakes that were made. So, I figured I could do it again."
O'Hurley went from playing J. Peterman to working for J. Peterman – and marketing an Urban Sombrero
*If you've failed at business before but understand the mistakes that you made, there is no better teacher for starting a new business.
ENTERTAINMENT
John Lennon 1940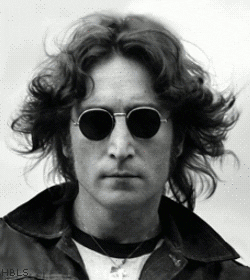 "If you can imagine a world of peace, if you can imagine a world with no denominations of religion – not without religion, whatever religion is – but without this divisive 'My god is bigger than your god' business…. Then, if you can imagine the possibility, then it can be true."
*Lay in bed and listen to John Lennon for as long as you can today. Imagine.
What did you imagine while listening to Lennon?
FOOD
Bella Hadid 1996
BREAKFAST: "My go-to is an egg sandwich on a plain bagel. One time I wanted to be healthy and got a gluten-free bagel, but I promise you, they suck."
LUNCH: "We break for lunch around 1 p.m. I'll usually have salmon or chicken and veggies,"
SNACKS: "I order a lot of green juices and keep them around on set. I have ginger shots in a cooler, and I'll drink one if I'm feeling low."
DINNER: "Westville is the restaurant I always order from. The sautéed kale is my favourite."
*Eat like Bella Hadid – all day today. If you don't live in NYC and can't make it to Westville, try Bobby Flay's recipe for sautéed kale.
https://www.foodnetwork.com/recipes/bobby-flay/sauteed-kale-recipe-1960155
SNUB – Sean Lennon 1975 (shares a birthday with his dad)