Look to the * for today's advice.
BE A THINKER DAY
MIND
Auguste Rodin 1840
http://www.rodinmuseum.org/collections/collectiontheme/6.html
"What makes my thinker think is that he thinks not only with his brain, with his knitted brow, his distended nostrils and compressed lips," Rodin noted, "but with every muscle of his arms, back, and legs, with his clenched fist and gripping toes." The statue no longer communicated the attitude of a poet presiding over a collection of literary fancies; instead, it captured an introspective moment of any human being – a poet, a leader, a scholar, an everyday working man, or even the artist himself.
http://www.biography.com/news/rodin-the-thinker-analysis
Introspection and reflection are all about getting to know yourself at the core, uncovering your values and then deciding for yourself what the best action to take is. You take the power away from the way you've been conditioned, away from the systems that try to hold you in place and bring your focus of control back to where it belongs, within you.
https://expertenough.com/2990/the-lost-art-of-introspection-why-you-must-master-yourself
*Have an introspective moment today where you think with not just your brain but with every muscle, a clenched fist, and gripping toes. Get to know yourself at the core. Be a thinker.
BODY
Anne Hathaway 1982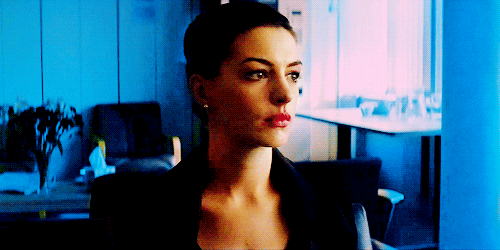 https://www.instagram.com/annehathaway/
To get in shape for her Catwoman role, Anne did stunt training five days a week and danced for an hour and a half daily. She also lifted weights and practiced martial arts and yoga. Her intense regimen helped her realize that even in Hollywood, it's not always about your dress size. "I've always thought that skinny was the goal, but with this job, I also have to be strong," she told Harper's Bazaar in 2011.
http://superherojacked.com/2017/11/17/anne-hathaway-workout/
https://blackbeltwiki.com/martial-arts-styles
http://www.thedarkknightrises.com/dvd/
*Dance for an hour and a half, practice martial arts (you could get a free first class), and/or yoga today. Watch Ann Hathaway as Catwoman in The Dark Knight Rises for motivation.
SOUL
Elizabeth Cady Stanton 1815
https://www.womenshistory.org/education-resources/biographies/elizabeth-cady-stanton
"The moment we begin to fear the opinions of others and hesitate to tell the truth that is in us, and from motives of policy are silent when we should speak, the divine floods of light and life no longer flow into our souls."
http://www.americanswhotellthetruth.org/portraits/elizabeth-cady-stanton
https://www.nps.gov/wori/learn/historyculture/elizabeth-cady-stanton.htm
*Don't fear the opinions of others or hesitate to tell the truth. Don't be silent when you should speak today – it's bad for your soul.
MONEY
Grace Kelly 1929
https://www.britannica.com/biography/Grace-Kelly
She was her family's 'least likely to succeed'
But Grace, the middle daughter, was different. She was the only Kelly who couldn't command a room, a shy, glasses-wearing girl who avoided competitive sports. The only thing Grace liked was the stage. Up there, she had a defined role besides being the clan's least likely to succeed, a label that stuck even after her singular 18-month Hollywood triumph during which she made nine films, won an Oscar, married a prince, and retired. When a reporter asked Jack Kelly if he was proud, he suggested they write about her older sister Peggy instead, shrugging, "Anything that Grace could do, Peggy could always do better." Grace Kelly was the family failure.
http://www.bbc.com/culture/story/20171220-grace-kelly-was-the-family-failure
https://www.amazon.com/Country-Girl-Bing-Crosby/dp/B0002ERWZ0
*Some times winning an Oscar and marrying a prince won't be enough to please your family. Remember that you measure your success. No one else. Watch her win said Oscar in The Country Girl for inspiration.
ENTERTAINMENT
Ryan Gosling 1980 – watch La La Land
https://twitter.com/ryangosling
Gosling can sing — who knew? We already knew that the actor can dance, thanks to his adorable performances back in his Mickey Mouse Club days, but La La Land showed a different side to the actor, with the musical showing off Gosling's adaptability. He might spend most of the movie mansplaining jazz to his co-star Emma Stone, but their relationship throughout is totally believable – and it bagged him his second Oscar nomination.
https://www.standard.co.uk/go/london/film/ryan-goslings-10-greatest-ever-performances-a3960686.html
https://www.amazon.com/Half-Nelson-Ryan-Gosling/dp/B000KX0IOK
*Watch Ryan Gosling almost win the Oscar in La La Land. As a teacher though, I think I'm going to watch him in his other Oscar nominated movie – Half Nelson.
FOOD
Russell Westbrook 1988 – peanut butter and jelly sandwich
https://twitter.com/russwest44?ref_src=twsrc%5Egoogle%7Ctwcamp%5Eserp%7Ctwgr%5Eauthor
In terms of his pregame meal, Westbrook actually likes to eat peanut butter and jelly sandwiches. He believes the peanut butter is just what my body needs in terms of protein, and the carbs from the jelly give him the energy needed to play most of the game.
https://www.muscleprodigy.com/russell-westbrook-workout/
Growing up, food writer Priya Krishna ate a peanut butter and jelly sandwich at every school lunch for eleven years, and in that time she (and her mother) refined the recipe to its ideal, such an ideal that she still eats them. Krishna has five tips for the perfect PB&J:
Spread the condiments evenly over the entire surface of the bread.
Use preserves, which have chunks of fruit, instead of jam or jelly.
Stick to strawberry and raspberry, not blueberry or anything funky.
Cut the sandwich diagonally.
Wrap it in foil, not plastic wrap, so it's less sticky.
https://lifehacker.com/how-to-make-the-perfect-pb-j-sandwich-1796890899
*The guy averaged a triple-double for an entire NBA season. I'm going to trust his opinion on a pregame meal. Make it your pre-day meal – for what will be a busy day.
SNUB – Charles Manson
Review –
Be a thinker
Dance, martial arts, and yoga
Don't fear the opinions of others
You measure your own success
Watch La La Land
Peanut butter and Jelly sandwich