CINDERELLA STORY DAY
MIND
Stephen King 1947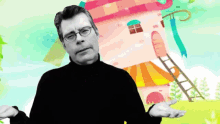 "I have written because it fulfilled me… I did it for the pure joy of the thing. And if you can do it for joy, you can do it forever."
The King Top 10 could be argued, but The Shining is always going to be a contender for the top slot.
*You've probably seen the movie. Start reading his #1 novel – The Shining
**I am writing these words for the joy of it. I truly enjoy every part of putting 365DOLF together. I can endure any journey to its success and if I can turn it into my career, my life will be fulfilling. Find your passion and do it for the joy.
BODY
Faith Hill 1967
Pamper yourself at the end of a long day.
"At night, I will throw my feet up on the couch and rest for a moment. I'll even acknowledge, 'God that was a long day."
Hill favors lower-impact activities, such as brisk 2- or 3-mile walks. She also performs regular 4-mile routines on an elliptical trainer.
*Take a 3-mile walk or 4 miles on an elliptical trainer. And remember to just breathe. Pamper yourself at the end of today.
SOUL
Alfonso Ribeiro 1971
Ribeiro had a message for queer young people – "Be yourself. Be proud,"
"I just feel like, even as an African-American, we're all minorities now, and we're all together, and we all need to support one another and just say that you are loved."
"We stand together as one against people who don't want us to exist,"
"Real equality is what brings us together as one in this journey called life. Love who your heart tells you to love and always come from a place of understanding and compassion. These are the values that bring us together. They unite us."
*Have values that unite people. Love who is in your heart and always come from a place of understanding and compassion. And don't be afraid to do the Carlton Dance.
MONEY
Larry Hagman 1931
"There are few things that J.R. Ewing can't afford, but patience is one of them."
Buy oil stocks and energy stocks
See how much debt oil and energy companies are carrying, how much profit they're generating and how much they're paying investors in dividends.
*Invest in oil today. Make Larry Hagman (J.R. Ewing) proud. Watch some episodes of the original Dallas for motivation.
ENTERTAINMENT
Bill Murray 1950 – watch Caddyshack
He was just a greenskeeper at Bushwood Country Club, but Carl Spackler (Bill Murray) had big dreams.
*Caddyshack, Stripes, Groundhog Day, Lost in Translation – all good choices
FOOD
Anne Burrell 1969 – ratatouille
"I feel so lucky to have found my true passion in life."
*Bill Murray battles a gopher in Caddyshack and dealt with a groundhog in Groundhog's Day so enjoy Anne Burrell's ratatouille on this day. It's a stretch – just go with it.
https://www.foodnetwork.com/recipes/anne-burrell/ratatouille-recipe-1925496
SNUB – Luke Wilson 1971 "The Godfather"