REAL DEAL DAY
MIND
Cassius M. Clay 1810
Cassius Marcellus Clay on one hand he was a brawling, idealist yet on the other he was a poet and a towering intellectual, steadfastly unwavering and courageous in his ideals . . . and he changed the course of history.
*Be courageous in your ideals like Cassius M. Clay and maybe one day "The Greatest" will be named after you. 
BODY
Evander Holyfield 1962
"This Hall of Fame thing is all about the help I got from someone else," said Holyfield, the youngest of nine children. "My mother would have been so happy."
Sprint 40 yards
Sprint backwards 40 yards
Do 10 frog jumps (be explosive!)
Do 10 push-ups
Bear crawl (like Spiderman) 40 yards
Bear crawl backwards 40 yards
Sideways run right 40 yards
Sideways run left 40 yards
Do 10 frog jumps
Explosive skipping (knee up as high as possible) forward 40 yards
Explosive skipping (same as above) backward 40 yards
http://www.theglowingedge.com/evander-holyfield-workout/
*Not quite as good as Cassius Clay, but pretty close was "The Real Deal" Evander Holyfield. No gym or trainer needed for his heavyweight workout.
SOUL
Trey Parker 1969 – watch The Book of Mormon
*Watch Trey Parker's musical – The Book of Mormon – to learn all about the Mormon religion.
MONEY
Charles Merrill 1885
A poor boy from Florida, Merrill was forced to leave college by lack of funds. But he schemed his way to Wall Street and made himself wealthy by the time he was 31.
*Start an account with Merrill Lynch today. Start out with their personal retirement calculator.
ENTERTAINMENT
John Lithgow – watch The World According to Garp
*Watch John Lithgow almost win an Oscar in The World According to Garp
FOOD
Jon Favreau 1966 – Cuban sandwich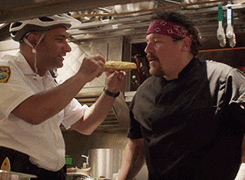 http://greatideas.people.com/2014/10/01/chef-jon-favreau-movie-restaurant-cubano-sandwich-recipe/
Favreau admits that the film was the reason he learned how to cook, and learning to cook became a bonding experience for him and his family.
*Watch Chef and then make the Cuban sandwich from the movie and enjoy.
SNUB – Ashlyn Harris 1985
Review –
Be courageous in your ideals
The Real Deal workout
Watch The Book of Mormon
Start an account with Merrill Lynch
Watch The World According to Garp
Make a Cuban sandwich