Check out the * for today's advice.
DON'T STAY IN YOUR LANE DAY
MIND
Henry Clay 1777
The Henry Clay Center for Statesmanship hosts their annual Henry Clay Student Congress. Students from all 50 states travel to Lexington, Kentucky to learn the value of compromise, bipartisanship, and policy making.
https://www.ket.org/series/KHCSC/
http://www.henryclaycenter.org/site/
Clay's last public efforts on behalf of the Compromise of 1850 cemented his position as an advocate of national unity above all else. His stirring denunciation of secessionist rhetoric echoes in a melancholy tone when one considers the enormity that tore the nation apart less than a decade after his death, but its power is undeniable.
http://www.the-american-interest.com/2011/07/01/judging-henry-clay/
https://cateringinstitute.com/the-power-of-compromise/
*All of Congress should have to attend the Henry Clay Center for Statesmanship. Don't you ever underestimate the value of compromise even if our government officials can't seem to grasp it. Compromise with someone today.
BODY
Brooklyn Decker 1987
https://www.forbes.com/sites/celiashatzman/2017/03/20/meet-finery-com-the-new-site-that-will-change-how-you-shop-and-get-dressed/#5878e8e0501d
Step 1: Jump Rope (100 jumps)
Step 2: Burpees (10 reps)
Step 3: Jumping Jacks with 3-lb weights (25 reps)
Step 4: Mountain Climbers (10 reps)
Step 5: Squat Jumps (10 reps)
http://www.shape.com/celebrities/celebrity-workouts/brooklyn-deckers-fat-burning-cardio-workout
"The worst advice would be when someone told me to stay in my lane. I, at the time, was modeling and was going to make the very cliché transition into acting, it's one that a lot of people take, and I think that they had the best intentions in mind."
https://abcnews.go.com/GMA/Culture/brooklyn-decker-shares-worst-advice/story?id=57228057
*Do the above Brooklyn Decker workout to burn fat. Have you seen her? It works. Don't stay in your lane today – except when you are driving.
SOUL
Beverly Cleary 1916
In 2000, to honor her invaluable contributions to children's literature, Beverly Cleary was named a "Living Legend" by the Library of Congress.
http://www.dropeverythingandread.com/beverlycleary.html
All of creation was designed with a need for Sabbath rest. From the beginning of time, God modeled it for himself and ordained it for all creation. But the concept of Sabbath rest is something that modern society seems to have forgotten.
https://www.granolasoul.com/beverly-cleary-simplicity-sabbath/
Rest on the next possible Sunday. It must work. As I type this, Beverly Cleary is 102.
MONEY
David Letterman 1947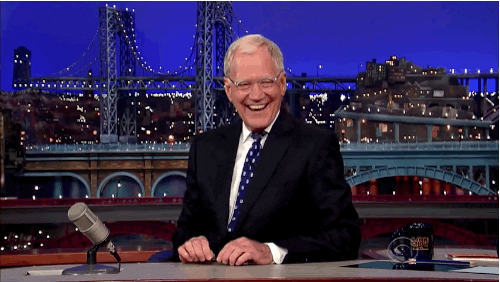 http://worldwidepantslicensing.com/LicenseStream/Home/LicenseStream.aspx
Top Ten Things we Learned from David Letterman About Finance
Don't try to keep up with the Joneses
David Letterman was always his own man. In the warring-with-Leno years, if he'd once attempted to be a "me too" version of The Tonight Show it never would have worked. His career was long because he didn't compare himself to the Joneses. He won Emmys because he didn't compete.
Robert Kiyosaki and Sharon Lechter, in their groundbreaking book Rich Dad, Poor Dad, caution against "the Rat Race." We're so busy comparing ourselves with everyone else we forget our goals…our soul. Who I AM and what I WANT are personal goals, and don't need to be tied to stuff or competition.
https://www.stackingbenjamins.com/top-ten-things-learned-david-letterman-money/
*How are you different? Are you following your own unique path? What could you eliminate in your life to stop "competing?" – don't try to keep up with us Joneses.
ENTERTAINMENT
Ed O'Neil 1946 – watch Married with Children
https://abc.go.com/shows/modern-family/cast/jay-pritchett
Al's anger is largely directed at women who don't look like Playboy models, and the show's misogyny is so casual and pervasive, you fail to notice it after a while. At the same time, for all the enlightened politics of today's television, I don't know of another show that so perfectly (if inadvertently) captures the manifold ugly facets of male impotence and rage.
https://www.newsweek.com/2014/09/05/life-lessons-married-children-266338.html
http://www.tbs.com/shows/married-with-children
You could watch him as Jay Pritchett, but take today to watch Ed O'Neill as Al Bundy in Married with Children. SIDE NOTE – On my 21st birthday (7/14/93), I asked my best friend Chad – "Am I drunk or is that Al Bundy?" – I was drunk and it was Al Bundy, dancing at The Magic Twanger in his hometown of Youngstown, Ohio.
FOOD
Andy Garcia 1956 – cream cheese flan
https://www.epicurious.com/recipes/food/views/cream-cheese-flan-234359
This is one of actor Andy Garcia's favorite dishes; the recipe comes from his wife, Marivi.
https://www.amazon.com/Godfather-Part-III-Widescreen/dp/B0007Y08NI
BONUS: Claire Danes 1979 – salad from Omen restaurant in Soho
I found myself fantasizing most heavily and most readily about this one salad I eat at a restaurant called Omen, a Japanese restaurant in Soho.
What makes that salad so great?
It was my centerfold salad. It was avocado and arugula—those two primary ingredients. Then a mushroom in there and I think there must be some kind of miso paste in the dressing. Whatever it is, it's the best thing ever. It's one of my favorite dishes of all time.
Avocado & Arugula Salad with cucumber, red radish, oyster mushroom & sesame dressing
$14.50
http://www.bonappetit.com/columns/back-of-the-napkin-columns/article/claire-danes
*Make yourself this Avocado & Arugula salad for dinner and then reward yourself with the cream cheese flan. You can enjoy both while watching Andy Garcia in Godfather 3 and/or Claire Danes in the series Homeland. Or just keep it light and watch episodes of Married With Children.
SNUB – John Hagee 1940
Review –
Compromise with someone
Fat burning workout
Rest on the Sabbath
Don't try to keep up with the Joneses
Watch Married with Children
Avocado and Arugula salad with cream cheese flan for dessert