Look for the * for today's advice.
EAT LIKE COSTANZA DAY
MIND
Caesar Augustus 63
https://www.nationalgeographic.org/encyclopedia/caesar-augustus/
Augustus reorganized Roman life throughout the empire. He passed laws to encourage marital stability and renew religious practices. He instituted a system of taxation and a census while also expanding the network of Roman roads. He founded a postal service and established a regular police force and fire brigade in Rome.
http://www.pbs.org/empires/romans/empire/augustus.html
This was a fantastic opportunity for a young man from nowhere. Almost at once, however, Caesar was dead – murdered by his own advisors. Augustus was just 19, but immediately threw himself into the backstabbing world of Roman politics.
https://www.history.com/topics/ancient-history/emperor-augustus
*Always be prepared to grab opportunities when they present themselves.
BODY
LisaRaye McCoy 1967
Off-screen, LisaRaye captured the hearts of hopeless romantics worldwide as she became a real-life aristocrat upon marrying the former Premier of the Turks and Caicos Islands in an extravagant 'royal' wedding attended by celebrities and dignitaries such as former BFF Vivica A. Fox, Rapper Da Brat (McCoy's sister), Ambassador Andrew Young and Perry Christie, the Prime Minister of the Bahamas.  She wore a one-of-a-kind couture gown by Amsale and a Chopard tiara from the personal collection of the only other American actress to marry a royal, Princess Grace Kelly of Monaco.
LisaRaye was also a celebrity who came out years ago stating she decided to be celibate for her own reasons. Clean body, inside and out.
https://blackdoctor.org/272412/lisaraye-fitness-secrets/
*Stay celibate today. Clean body, inside and out.
SOUL
Ray Charles 1930
Referred to as "The Genius of Soul," Charles was more than a cover artist or a mimic. He was a bridge, breaking down musical barriers and making whatever he sang his own.
But Charles' legacy runs deeper than music. His life tells the story of a man who overcame not only racial obstacles in the mid-twentieth century, but also physical obstacles, going blind from glaucoma by the age of seven.
http://www.christianitytoday.com/ct/2004/octoberweb-only/ray.html
https://www.amazon.com/Ray-Widescreen-Jamie-Foxx/dp/B00005JND5
*Listen to Ray Charles. It's good for the soul. Watch Ray for further inspiration.
MONEY
Andres Cassagnes 1926
https://www.britannica.com/biography/Andre-Cassagnes
As with so many inventions, the genesis of the Etch A Sketch came about through a fortuitous accident. Cassagnes was repairing an electrical switch and had written in pencil on an adhesive transfer on the switch plate. He noticed that when he lifted off the transfer, the marks were still visible on the other side.
http://www.independent.co.uk/news/obituaries/andre-cassagnes-electrician-who-invented-the-perennially-popular-toy-etch-a-sketch-8480625.html
For more than 50 years, children and adults alike have been discovering the magical world of creativity and pencil-free drawing with Classic Etch A Sketch! The iconic frame, easy-to-use knobs, classic magic screen and shake-to-erase feature — not to mention the endless hours of fun it provides — have made it popular all around the world!
French electrical technician André Cassagnes applied his experience with the clinging properties of an electrostatic charge to invent a mechanical drawing toy with no spare parts. He called his creation L'Ecran Magique, the magic screen. Introduced at the International Toy Fair in Nuremberg, Germany, in 1959, the gadget failed to draw much attention. Numerous manufacturers passed over a chance to pick up the new toy, concluding that Cassagnes wanted too much money for it. However, the Ohio Art Company took a second look and invested $25,000, more than they had ever paid for a license. Ohio Art renamed the toy "Etch A Sketch" and began mass production later that year. Saturation advertising on television turned the toy into a must-have item for Christmas, 1960
http://www.toyhalloffame.org/toys/etch-sketch
*Think about your experiences. What could you apply your experiences to create? All you need is one investor to take a second look and invest. Play with an Etch A Sketch for inspiration.
ENTERTAINMENT
Bruce Springsteen 1949
https://twitter.com/springsteen?ref_src=twsrc%5Egoogle%7Ctwcamp%5Eserp%7Ctwgr%5Eauthor
Men really do get better with age
Well, Springsteen does anyway. Just look at him: just turned 70 and he's still looking sharp and banging out hit albums and three-hour stadium gigs like a man less than half his age.
https://uk.askmen.com/entertainment/music/bruce-springsteen-s-masculinity.html
*Listen to "The Boss" throughout your day. Act like someone half your age today. Baby you were born to run.
FOOD
Jason Alexander 1959 – George Costanza day of eating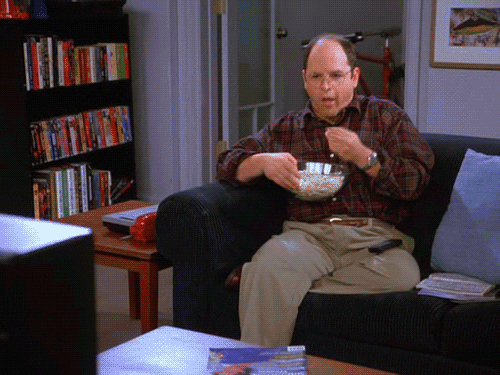 https://twitter.com/IJasonAlexander?ref_src=twsrc%5Egoogle%7Ctwcamp%5Eserp%7Ctwgr%5Eauthor
Even Seinfeld actors and creative and production teams disagree about the Jewishness of Seinfeld characters, especially George and his family. Writer Carol Leifer insists that the Costanzas are not Jewish, attributing any confusion to their status as New Yorkers. But co-producer Gregg Kavet believes that "George Costanza, with an Italian name and all, is Jewish," because his mother was written as a Jewish character, even though her Jewishness was not explicitly revealed.
https://www.myjewishlearning.com/article/invisible-jews-on-television/
Breakfast
Éclair -. Only George would try to justify why it's okay that he ate a partially-eaten eclair out of the trash "It was clean and on top."
Lunch
Eggplant calzone – When you're working for none other than George Steinbrenner, you gotta give the man what he wants. And in this episode, what he wants is George's delicious-smelling eggplant calzone—every day.
Midday Snack
Chips and dip – George gets caught committing one of the worst snacking offenses—double-dipping a chip—and at a wake no less. "You dipped the chip. You took a bite. And you dipped again!" To which George retorts, "You dip the way you want to dip…I'll dip the way I want to dip."
Dinner
Turkey chili with bread – Bottom line is this: If you want the most delicious soup in all the land, you follow the rules set by the "Soup Nazi." (George never does get his bread)
Marble Rye – You know, George's dad had a point—if you're going to bring something to a dinner party, say a marble rye, the polite thing to do is put it out for the guests to enjoy. But if that doesn't happen, is stealing it back okay? In the words of Mr. Costanza: "What do you mean stole? It's my bread. They didn't eat it. Why should I leave it there?"
Dessert
Ice cream sundae – Would you break up with someone if they were caught on TV at a major sporting event (like oh, say, the US Open) with an ice cream sundae dripping all over their face? Well, if that "someone" was George, then you might!
Late night snack
Pastrami on rye – When his girlfriend lights some vanilla incense before they have sex, it makes George hungry. So, he thinks about his dream trifecta: eating, watching TV and having sex all at the same time. But eating a pastrami sandwich while watching a portable TV under the covers doesn't exactly go over well during foreplay
https://www.eatthis.com/seinfeld-food-moments/
https://www.sonypictures.com/tv/seinfeld/
*Eat like George Costanza all day. Make it like "The Summer of George!"
SNUB – Anthony Mackie
Review –
Be prepared to grab an opportunity
A day of celibacy
Listen to Ray Charles
Create from your experiences
Listen to Bruce Springsteen
Eat like George Costanza