Look for the * for today's advice.
TAKE THE DAY OFF DAY
MIND
Gary Oldman 1958
https://www.britannica.com/biography/Gary-Oldman
"To become Churchill, it's like a big sausage-maker. You put all the research in the machine and hopefully out comes the sausage at the end of it," said Oldman, who has previously brought real-life figures like Sid Vicious, Beethoven, and Lee Harvey Oswald to the screen.
https://www.vanityfair.com/hollywood/2017/11/gary-oldman-winston-churchill-darkest-hour
http://focusfeatures.com/darkesthour
Don't Give Up
According to Winston Churchill, "continuous effort, not strength or intelligence, is the key to unlocking our potential." The thing with individuals today is that they want instant success. However, success is a process that needs to be carefully tendered. You can start small and work your way up to the top. Even in your small continuous efforts, you will succeed.
http://servingjoy.com/life-lessons-from-winston-churchill/
*Watch Oldman in the Darkest Hour and remember – never surrender!
BODY
Adrian Peterson 1985
https://twitter.com/AdrianPeterson?ref_src=twsrc%5Egoogle%7Ctwcamp%5Eserp%7Ctwgr%5Eauthor
"For being agile and quick as a cat, these drills come in handy," Peterson says. Then it's on to the heart of his movement work—power and speed training with a combination of plyometric exercises, acceleration work and cutting drills. "Being explosive, being off-balance, being able to push through—these drills will help you with that," he says.
http://www.stack.com/a/adrian-peterson-workout
*His nickname is AD for all day. Today is your day to be called AD as you do his workout and then dominate a flag football game that you've organized.
SOUL
Rosie O'Donnell 1962
"Radical Christianity is just as threatening as radical Islam in a country like the United States." Those words were not spoken by Osama bin Laden but by comedienne turned talk-show hostess Rosie O'Donnell on a nationally broadcast program in October. Her statement generated a wide range of reactions. A new nationwide survey of that reaction, conducted by The Barna Group, suggests that although few Americans would challenge her right to make such statements, just as few share her point of view.
https://www.barna.com/research/rosie-odonnell-stirs-christians-emotions/
*So, do you challenge her right to make this statement? Do you share her point of view?
MONEY
Forrest Mars, Sr. 1904
http://www.mars.com/global/brands/chocolate
Although he officially retired in 1973 and began unaffiliated businesses selling boxes of chocolates and plant food, among other things, he continued to look in on the business and to call his sons on the carpet for any problems he detected
http://www.nytimes.com/1999/07/03/business/forrest-mars-95-creator-of-the-m-m-and-a-candy-empire.html
*Create a business that after you retire, you will still want to be involved with what you did for so long. That would be a nice way to retire for sure.
ENTERTAINMENT
Matthew Broderick 1962 – take the day off and watch Ferris Bueller's Day Off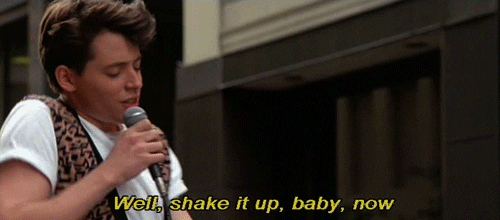 https://chicago.curbed.com/maps/ferris-buellers-day-off-map-guide-chicago
https://www.amazon.com/Ferris-Buellers-Day-Matthew-Broderick/dp/B00AEFXXMI
https://www.rollingstone.com/movies/ferris-buellers-day-off-five-things-you-didnt-know-w486851
LOVE WAS IN THE AIR.
Matthew Broderick and Jennifer Grey (who played Jeanie, Ferris's sister) got engaged just before the movie's release. Cindy Pickett and Lyman Ward, who played Ferris's parents, met on the set of the movie and eventually got married and had two children.
http://mentalfloss.com/article/64957/15-fun-facts-about-ferris-buellers-day
*Yes, take the day off – no matter what. Watch the movie and live life to the fullest today.
FOOD
Julio Gallo 1910 – beef with red wine sauce
https://www.theguardian.com/lifeandstyle/2010/aug/28/great-dynasties-american-gallo-wine
The Gallo winery was established after the repeal of prohibition in 1933 by two brothers, Ernest and Julio. According to family legend, they read a pamphlet in their local library that gave them enough information to get started.
http://www.gallo.com/press/2014-11-21-meals-to-americans
http://americanhistory.si.edu/food/wine-table/e-j-gallo
https://www.myrecipes.com/recipe/beef-with-red-wine-sauce
*Make this beef with red wine (Gallo) sauce. Enjoy it while watching Gary Oldman in The Darkest Hour. Have a Mars candy bar for dessert.
SNUB – Benito Juarez
Review –
Never surrender
AD workout
What are your thoughts on radical Christianity?
Create a business that will make you never want to retire
Watch Ferris Bueller's Day Off
Make beef with red wine sauce