BE A JACKASS DAY
MIND
Rahaf Mohammed 2000
"I was exposed to physical violence, persecution, oppression, threats to be killed,"
"I felt that I could not achieve my dreams that I wanted as long as I was still living in Saudi Arabia."
*Make sure that you are living in an environment where you can achieve your dreams. If not, use today to start planning your exit strategy.
BODY
Anthony Davis 1993 – groom yourself
Davis, known for his connected eyebrows, trademarked the phrases "Fear The Brow" and "Raise The Brow"
*Groom yourself everywhere. Especially those eyebrows.
SOUL
Bobby McFerrin 1950 – "Don't Worry be Happy"
*Listen to this song when you wake up and right before you go to bed. Make it part of your daily plan for success.
MONEY
Johnny Knoxville 1971 watch Jackass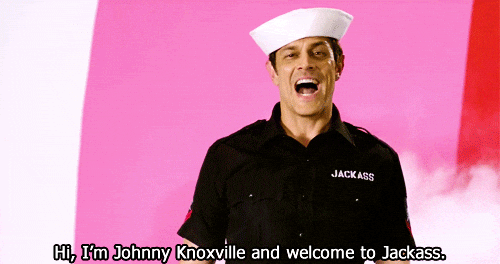 *Realize that Johnny Knoxville became a millionaire, literally by being a jackass.
ENTERTAINMENT
Terrance Howard – watch Hustle and Flow
*Watch Terrance Howard almost win an Oscar in Hustle and Flow
FOOD
Greg Olsen 1985
"Breakfast is pretty straightforward: eggs. For dinner, it rotates. I like a lot of fish, a lot of lean meats—any sort of lean proteins with a lot of vegetables or healthy grains. With some sort of combination of those, you can't really go wrong."
*Eat like future Hall of Famer Greg Olsen today.
SNUB – Poonam Pandey 1991
Review –
Live where you can achieve your dreams
Groom yourself
Listen to "Don't Worry Be Happy" by Bobby McFerrin
Turn what you are into a career
Watch Hustle and Flow and Jackass
Eat like Greg Olsen