Look at the * for today's advice.
HAVE ONE GREAT PURPOSE OF EXISTENCE DAY
MIND
John Quincy Adams 1767
https://www.whitehouse.gov/about-the-white-house/presidents/john-quincy-adams/
https://millercenter.org/president/jqadams
Your purpose will shape your most significant contribution.
"You must have one great purpose of existence . . . to make your talents and your knowledge most beneficial to your country and most useful to mankind."
https://tonymorganlive.com/2016/05/30/10-leadership-lessons-john-quincy-adams/
*What is your one great purpose of existence? What can you do that will be most useful to mankind?
BODY
Andre Johnson 1981
http://www.andrejohnson80.com/
You'll train four days per week, focusing on speed and strength. You may not be familiar with some of the explosive exercises such as speed squats or power cleans, so take the time to learn the form precisely.
https://www.mensfitness.com/sports/football/andre-johnson-football-workout-power-and-explosiveness
*Get with your trainer and do speed squats and power cleans.
SOUL
Annie Armstrong 1850
Annie believed in and followed Christ with all her heart, but it was her hands that expressed that belief in tangible ways. She spent a great amount of time typing and handwriting letters in support of missions. Many of these letters were quite lengthy and all were filled with conviction that more could and should be done in our missions efforts. Annie also never hesitated to use her hands to reach out to hug a child or distribute food, clothing and the Word of God to those in need.
*Sign up for a mission trip today.
MONEY
Giorgio Armani 1934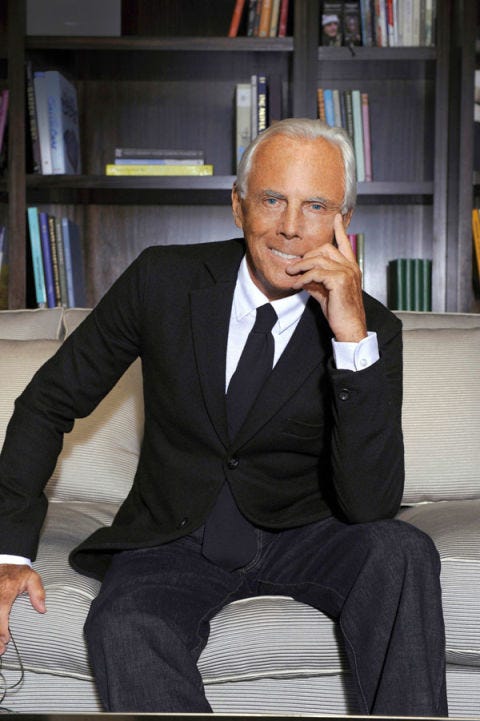 https://www.armani.com/us/armanicom
Stick to Your Vision, Stretch Your Brand, Follow Your Conscience
https://arlinaaffendi.wordpress.com/2012/12/08/3-success-lesson-from-giorgio-armani/
*Stick to your vision today. Follow your conscience and keep working on your business idea.
ENTERTAINMENT
Richie Sambora 1959 – listen to Bon Jovi
Richie Sambora suggested he started becoming unhappy with the way Bon Jovi were progressing as early as 1985.
He quit the band acrimoniously in 2013 but later settled his differences with singer Jon Bon Jovi, and teamed up with his former colleagues at their induction into the Rock and Roll Hall of Fame last month.
*Rock out to Bon Jovi all day.
FOOD
Patrick Peterson 1990 – spinach and artichoke dip
https://www.gq.com/story/the-real-life-diet-of-patrick-peterson
I find myself walking 13 miles a week. No joke: 13 miles a week. Honestly, you find yourself thinking of so much stuff when you're walking because, first of all, it's quiet. When I walk, I don't walk with my music. I just want to listen to the birds chirping, and the wind. I have peace of mind. It's like therapy.
https://officialize.com/@patrickpeterson
https://www.azcentral.com/story/life/food/recipes/2014/08/18/cornerback-patrick-peterson-spinach-artichoke-dip/14163381/
*Try this spinach and artichoke dip. Take a long walk afterwards.
Snub – Caroline Wozniacki 1990