Remember to look for the * for my daily advice, with a review of the day at the bottom.
FIND YOUR PRAYER DAY
MIND
Isaac Asimov 1920
https://www.fantasticfiction.com/a/isaac-asimov/
"Whereas the second week in April each year is designated as 'National Robotics Week', recognizing the accomplishments of Isaac Asimov, who immigrated to America, taught science, wrote science books for children and adults, first used the term robotics, developed the Three Laws of Robotics, and died in April, 1992: Now, therefore, be it resolved…"
http://www.asimovonline.com/asimov_home_page.html
https://www.mercurynews.com/2008/04/07/isaac-asimovs-super-quiz-278/
*Now that you know about Isaac Asimov, research and take some of the above SUPER QUIZZES to stimulate your mind even more.
BODY
Karina Smirnoff 1978
Never do the same workout twice. Mix it up so your body doesn't plateau.
Look for workouts where your heart rate changes.
Target the areas in your body that you are most conscious about.
Eat watermelon and asparagus as diuretics. They are great for the body because they help get toxins out.
Eat spinach because it's a great source of fiber and keeps you full.
Reduce salt. Karina has trained herself to not eat salt.
Listen to your body. Your body will tell you what you can and cannot eat.
http://livewellnetwork.com/Mirror-Mirror/episodes/Karina-Smirnoffs-Workout/9061356
*Lots of good advice from Dancing with the Stars' Karina Smirnoff.  It's the top one that is fitting for 365DOLF.  "Never" is a strong word for the entire year, but try and avoid constantly doing the same workout.  This is also a good example of daily advice for both working out and eating right.
SOUL
Therese of Lisieux 1873
https://www.littleflower.org/therese/
For me, prayer is an upward leap of the heart, an untroubled glance towards heaven, a cry of gratitude and love which I utter from the depths of sorrow as well as from the heights of joy. It has a supernatural grandeur which expands the soul and unites it with God. I say an Our Father or a Hail Mary when I feel so spiritually barren that I cannot summon up a single worthwhile thought. These two prayers fill me with rapture and feed and satisfy my soul.
https://stpeterslist.com/5-quotes-from-st-therese-of-lisieuxs-the-story-of-a-soul
http://www.beliefnet.com/prayers/catholic/childrens-prayers/the-lords-prayer.aspx
*Find a prayer that feeds and satisfies your soul, especially when you cannot summon a single positive thought.
My Daily Prayer will be:
Short Prayer for Growing Faith
Dear Lord, help me – every single morning – to find faith in the midst of the chaos. Give me the desire and ability to see You, hear You, talk to You, and give thanks to You. 
MONEY
Cuba Gooding Jr. 1968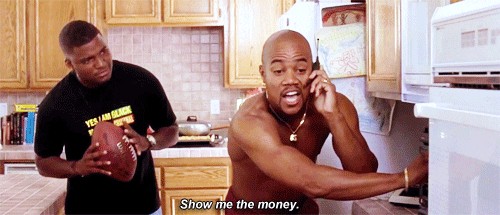 https://twitter.com/cubagoodingjr?lang=en
"Show me the money!"
Show Me the Money: Tips On Saving
The Five Dollar Challenge: Anytime you come across a $5 bill, put it away in an envelope, jar, piggy bank, whatever. At the end of the year, use that money towards a fun big purchase, or put it towards your savings account.
https://fabulesslyfrugal.com/5-savings-challenge/#.W8iPmmhKjcs
*You actually don't have to wait the entire year.  Tom Cruise's birthday is July 3 (literally almost born on the 4th of July), watch Jerry Maguire on that day and when Cuba Gooding Jr. says his famous line, brake open that piggy bank and count all of those $5 bills, while saying "show me the money!"
ENTERTAINMENT
Kate Bosworth 1983 – watch The Domestics
https://twitter.com/katebosworth?ref_src=twsrc%5Egoogle%7Ctwcamp%5Eserp%7Ctwgr%5Eauthor
https://www.amazon.com/Domestics-Kate-Bosworth/dp/B07FFZTWGJ
Kate Bosworth does the movie's emotional heavy-lifting and manages to plausibly depict both an emotionally damaged woman in denial and a steely action heroine.
http://www.jasoncolavito.com/blog/review-of-the-domestics-a-post-apocalyptic-thriller-cobbled-from-spare-parts
*Watch Kate Bosworth in this apocalyptic thriller.
FOOD
Nathanial Bacon 1647
https://www.legendsofamerica.com/ah-nathanielbacon/
Turn the clock back to 1676, exactly 100 years before the American Revolution. A dashing, well-heeled young Englishman, Nathaniel Bacon, recently arrived from England — leads a rebellion against Virginia's established order. The colony's government is led by Bacon's cousin-by-marriage — 70-year-old Gov. William Berkeley, who has held the post for 40 years. Within months "Bacon's Rebellion" is quelled, Bacon is dead. His co-conspirators are swinging from the gibbet, a commission of enquiry arrives from England with instructions to find out "the truth" and Berkeley is recalled to London where he dies only months later.
http://www.history.org/foundation/journal/Spring15/bacon.cfm
In honor of Nathanial Bacon's birthday, make some bacon butter to use (sparingly) until it's all gone.
Bacon Butter: Cook 2 slices bacon in a skillet; drain and chop. Blend 1 stick softened butter with the drippings and 2 tablespoons maple syrup. Stir in the chopped bacon.
http://www.foodnetwork.com/recipes/articles/50-things-to-make-with-bacon.html
CROSSOVER: *As far as meals are concerned, take some more advice from Katrina Smirnoff and work some watermelon, asparagus, and spinach into your diet, all while trying to reduce salt (not easy with a fresh batch of bacon butter).  Also in her honor, have a Smirnoff on ice to wind down for the day.
WHO GOT SNUBBED? – Dax Shepard 1975
REVIEW
Take Super Quizzes
Rarely do the same workout twice
Have a daily prayer
Start the $5 challenge
Watch The Domestics
Make bacon butter – but eat watermelon, asparagus, and spinach