Look for the * for today's famous advice.
AUSTRALIA DAY
MIND
Jackson Pollock 1912
http://www.jackson-pollock.org/
Jackson Pollock's greatness lies in developing one of the most radical abstract styles in the history of modern art, detaching line from color, redefining the categories of drawing and painting, and finding new means to describe pictorial space.
https://ed.ted.com/lessons/could-just-anyone-make-a-jackson-pollock-painting-sarah-rosenthal#digdeeper
There's no right way to view art – it's worth bearing in mind that a lot of art is about asking questions and trying to find ways to communicate things that are impossible to express through language. So whenever you see something you don't understand at all, try to spend as much time as possible looking at it before giving in to the urge to seek external information about it.  Because, if the artist just wanted us to think about ideas, they wouldn't have needed to create their art in the first place. He or she could have just written an essay instead.
https://www.khanacademy.org/humanities/art-1010/abstract-exp-nyschool/abstract-expressionism/v/moma-jackson-pollock
*Do you want to sound smart about art? At least about Jackson Pollock on his birthday. Take the above course on him through Khan Academy. If you are young, you know all about Khan Academy. If you're older, you'll be upset that it wasn't available when you were in school.
BODY
Andre Iguodala 1984
https://www.facebook.com/andre/
Iguodala, who was named the Most Valuable Player of the 2015 NBA Finals, credits his improved performance on the court to changes in his sleep habits.
Iguodala has a strict "no screens, no lights" bedtime routine that involves "shutting down all the phones, putting everything on airplane mode, getting my alarm clock set, and taking a couple deep breaths.
Iguodala says he has benefited so much from his routine that he has just two tips for anyone who feels out of whack: "Sleep more and work out more."
https://journal.thriveglobal.com/the-long-game-how-andre-iguodala-trains-his-body-mind-and-soul-a04f664788a3
*When you go to bed tonight, perform Andre Iguodala's nightly routine to get more sleep and don't forget to work out more too.
SOUL
Gregg Popovich 1949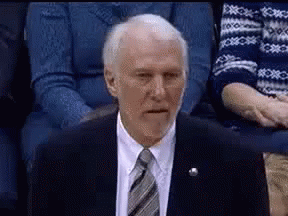 http://theundefeated.com/features/san-antonio-spurs-gregg-popovich-is-the-nbas-most-woke-coach/
This country is currently rife with crisis and conflict. If you are young, have black or brown skin and are without financial means, the less likely your concerns will be heard. On a Sunday in San Antonio, Spurs head coach Gregg Popovich and Harvard professor and civil-rights activist Dr. Cornel West tried to chip away at that suffocating status quo.
"Win the championship? I don't know, but it's not a priority in my life. I'd be much happier if I knew that my players were going to make society better, who had good families and who took care of the people around them. I'd get more satisfaction out of that than a title. I would love to win another championship, and we'll work our butts off to try and do that. But we have to want more than success in our jobs. That's why we're here. We're here so you'll understand that you can overcome obstacles by being prepared and if you educate the hell out of yourself. If you become respectful, disciplined people in this world, you can fight anything. If you join with each other and you believe in yourself and each other, that's what matters. That's what we want to relay to you all: that we believe that about you or we wouldn't be here."
https://www.thenation.com/article/soul-men-coach-pop-and-cornel-west/
*Take today to make society better. Work on making your family better. Take care of the people around you. Work hard at your job or business, but stay focused on being more than successful in your job.
MONEY
Carlos Slim 1940
http://www.carlosslim.com/responsabilidad_ing.html
Slim's fortune is more like that of the old Rockefeller family than Bill Gates. Instead of building an empire on a few great innovations in a particular field, he did so through acquisitions and building a nearly unassailable market share.http://www.investopedia.com/articles/investing/103114/how-carlos-slim-built-his-fortune.asp
Invest in areas that customers find it difficult to avoid you
Carlos has invested in real estate, bakeries, telecoms, education institutions, healthcare, fashion, museums etc. By doing this, he is serving his customers every day in different ways. People joke that: Mexico should be renamed "Slimlandia" because it is impossible to avoid contributing to his vast empire.
http://knowstartup.com/2016/12/10-success-lessons-from-carlos-slim-helu-for-entrepreneurs/
Start Investing in Stocks for $3.95
Ally Invest offers great pricing, highly-rated customer service, and free tools. No account opening minimums. No hidden fees.
https://www.ally.com/invest/self-directed-trading/?CP=210649538;0;
*It's never been easier to invest. Invest online and focus on areas that people can't avoid. As you go through your day, observe what people "have" to do (cell phones, groceries, gas, etc.)
ENTERTAINMENT
Nick Carter 1988
https://twitter.com/nickcarter?ref_src=twsrc%5Egoogle%7Ctwcamp%5Eserp%7Ctwgr%5Eauthor
https://www.backstreetboys.com/
Joey Fatone 1977
https://twitter.com/realjoeyfatone?ref_src=twsrc%5Egoogle%7Ctwcamp%5Eserp%7Ctwgr%5Eauthor
https://www.facebook.com/nsync/
It is the year 2018 and Joey Fatone has fans wondering who would win in a basketball game: *NSYNC or the Backstreet Boys?
While walking down the street this week, Fatone told TMZ about how the two boy bands played against each other in charity games back in the day and said:
"Nick (Carter) can play, Bryan (Littrell) can play pretty well, but as far as a group, we could probably kick their a—."
The cameraman asked, "You think so?" Fatone continued:
"I know so. There's no think so. You can tell that to Nick Carter! You can tell that to Howie Dorough, you son of a (expletive)! Tell 'em!"
https://ftw.usatoday.com/2018/03/nsync-backstreet-boys-pickup-basketball-joey-fatone-nick-carter-video-woo
*Boy bands were never better than at the height of the Backstreet Boys and Nsync. With Nick Carter and Joey Fatone sharing a birthday, enjoy a mix of both groups and decide for yourself which one was best.
FOOD
Mo Rocca 1969 – Cauliflower Green Pea Coconut Curry
https://twitter.com/MoRocca?ref_src=twsrc%5Egoogle%7Ctwcamp%5Eserp%7Ctwgr%5Eauthor
http://www.cookingchanneltv.com/profiles/talent/mo-rocca/bio
I learned from best friends — and grandmothers — Meena and Mona that the creamy heavy stuff we know as Indian food is Punjabi. Meena and Mona are Maharashtrian (from the region that includes Mumbai). Their food is much lighter, but still spicy and savory. Oh, and calling the cuisine "Indian food" is sort of like lumping German and Spanish food together and calling it "European food."
http://www.cookingchanneltv.com/devour/2012/10/5-things-mo-rocca-learned-from-other-peoples-grandparents
http://www.cookingchanneltv.com/recipes/cauliflower-green-pea-coconut-curry-2120845
*Get with your grandma today and have her help you make this cauliflower green pea coconut curry. 
SNUB – Alan Alda
Review –
Use Khan Academy to learn about Jackson Pollock
Sleep more and work out more
Make society better
Invest in "must haves"
Listen to N'Sync and Backstreet Boys
Make cauliflower green pea coconut curry with your grandma